Product Description
Well-rounded exercises, without unnecessary impact. This elliptical trainer is very appealing to users that value smooth, quiet strides. Its focus on kinetic energy makes this model stand out in the market. Despite being specifically engineered for the commercial environment, the optimized ergonomic features – 20" stride lengths and 2 °inversion at each foot pedal – remain to be the centerpiece of comfort for all users.
FORMULA FOR SMOOTHNESS
With a 51 cm [20″] stride length, 40 levels of resistance, a 14 kg [30.8lbs] flywheel, and an extensive amount of console feedback, this model is very appealing to someone that values a smooth ride and multitudes of adjustable  Options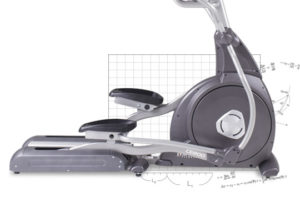 ERGONOMIC PEDALS
Spirit Fitness elliptical trainers are the only elliptical trainers that have an integrated two-degree inward tilt to make your workout more comfortable. This exclusive design puts you in a more ergonomically correct position. The pedals are also padded, placing less stress on your feet.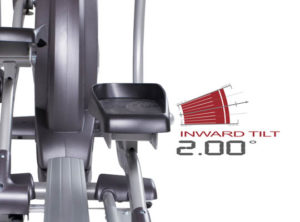 HEAVY DUTY FRAME
Its heavy duty steel frame, zinc undercoating, plus an additional powder coat paint finish add durability in commercial settings. In addition, the CE800 is equipped with self-generating power, so you can place it anywhere in your facility for your clients to enjoy year after year.
EFFICIENT KINETIC ENERGY
Certain brands arbitrarily emphasize the flywheel weight of an elliptical. But Spirit's formula for the smoothest kinetic energy take pulley diameters, belt length, belt tension, foot pedal, and stride length into account – none of which is compromised.
ULTRA HEAVY FLYWHEEL
The 13.5 kg flywheel serves as a power generator, so no electrical cords are needed for the console to operate.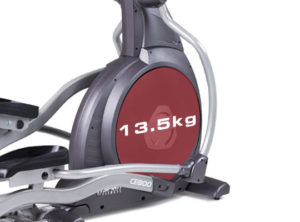 CE800 CONSOLE
This large, bright LED console gives users constant feedback from heart rate to distance to time. With a quick press of a button, users can start a simple exercise or one of the many specialized programs. Extra features include a storage tray for a phone, keys, or an MP3 player. The Turbo cooling fan encourages longer workouts.