Product Description
Where a new exercise experience is born: the e•Glide Smoothness is a practical appeal in cycling, where more energy could be expended without feeling as tired compared to other exercising methods. Spirit engineers realized this concept by combining elliptical trainer and bikes. The market responded to this invention with praise that spoke of a floating feeling from our patented Direct Drive System.
DIRECT DRIVE FLYWHEEL SYSTEM
On an elliptical, multiple cranks are structured between the pedal and the flywheel. The crank attached on an elliptical's flywheel is closer to the flywheel's perimeter. However, both the e-glide's flywheel and cranks mount on the same drive axle. As the result, the e-glide's flywheel is directly driven by the pedals. This transmission system therefore is named the Direct Drive.
Inertia comes from the flywheel's continuous motion, rendering smoothness and some force to help users propel. Since the e-glide's flywheel and the cranks share the same axle, its inertia is especially effective in both forward and reverse pedaling motion.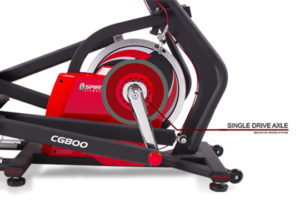 DUAL CONCAVE WHEELS
Spirit e•Glide and ellipticals have custom designed dual concave wheels, giving twice the support than a single wheel to sustain pedaling action. Combine this with our aircraft-quality T6069 extruded aluminum wheel track, you get the smoothest and the most stable trainer on the market.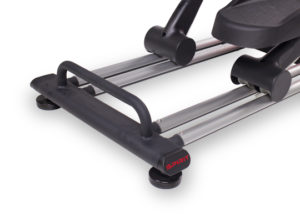 RESULT-DRIVEN SMOOTHNESS
The combination of our Direct Drive System along with balancing the precise weight of our pedal arms, dual-action handlebars, foot pedal angle, and stride length offers the perfect formula to assure the smoothest workout motion. This motion creates what we call the "floating" effect once you reach a certain RPM.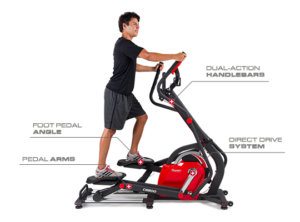 CONSOLE FEATURES
CONSOLE FEEDBACK
This model is ideal if you just want to program total workout time and view basic data while exercising.
CONSOLE ADJUSTABILITY
A console angle adjustment range of 10⁰ to accommodate the best viewing angle.