Product Description
Durable, comfortable, and smooth are all qualities of the Spirit Fitness semi-recumbent bikes. Easy adjustments, bright LCD screens, a cooling fan, and mesh back seats are standard on all models. The XBR95 features Calorie and Fusion programs that bring workout to a new level.
Recline in Comfort
Semi-recumbent bike seats typically slide forward and backward to adjust for your specific leg length. Additionally, Spirit bikes offer a seat-back adjustment that travels fifty degrees, allowing for a more ergonomically-correct workout. You simply squeeze the handle on the bike and the seat moves to your custom position.
Commercial Grade Structural Frame
All of our bikes are made from the highest quality materials including commercial-grade structural steel frames, cold-forged cranks, and solid steel flywheels and you can begin to see why an independent survey of fitness retailers across America voted Spirit Fitness bikes the #1 selling fitness bikes in the entire country.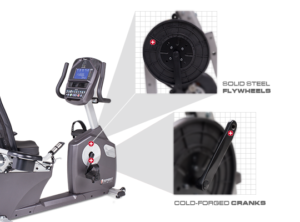 Console
Using our informative and easy-to-read bright blue LCD display, you'll also be able to quickly track your progress and get instant feedback with built-in tools like our Muscle Profile indicator, which demonstrates which muscle groups are being targeted, and our Heart Rate Monitor, which displays your heart rate percentage compared to your maximum projected heart rate.