Product Description
A frictionless ride, extensive console feedback, and a mesh seatback are design elements that create a quality fitness bike.
MESH BACKREST
Our open-weave mesh allows air to flow through the back of the seat to keep you more comfortable during your workout. Our adjustable buckle system allows you to easily adjust the tension on the seat back for maximum comfort, and with our easy-to-wash mesh backrest.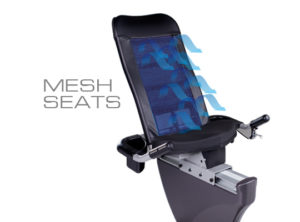 THE 2 DEGREE DIFFERENCE
A key comfort issue for any fitness bike is the distance between the pedals. Since the drive system on all sbikes is located between the pedals, we have adjusted the footpad on our pedals to have an integrated two degree inward tilt to make the ride more comfortable and enjoyable.
EFFICIENT KINETIC ENERGY
It all starts with giving you the finest ride possible, this means tapping into the kinetic energy at the pedal. Taking into account the flywheel weight, pulley diameters, belt length, and belt tension, we have developed the perfect formula to assure you get the smoothest stroke possible.